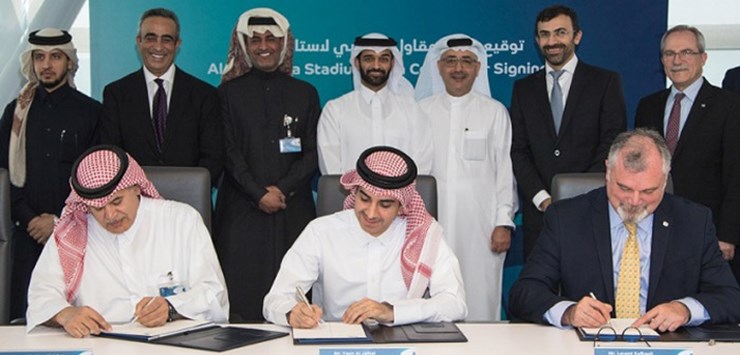 Al-Jaber Group shall be the company of choice among international investors, traders, contractors, public and private sectors in the Gulf region.
Al-Jaber Group shall be recognised as a respected professional name that our clients, agencies and employees shall feel proud to be associated with.
In order to achieve its vision, the Group strives to continually maintain and improve:
Combined efficiency of the level of professionalism of each member company
Support and training provided to valued and dynamic workforce
Strong partnerships with local and international clients and companies
Quality & Safety along with Health & Environment standards and operational excellence
Performance of each member company, striving to be the best in their respective fields
Qatar
Al-Jaber Group assures to contribute passionately and progressively in the development of Qatar's infrastructure and industrial expansion goals.
Employees
Al-Jaber Group recognises the valuable role that each and every employee plays in the overall accomplishments of the member companies. From senior management level to project workforce staff, the quality and calibre of employees is to an exemplary standard and their individual performance and workmanship only proves as evidence for the atmosphere of confidence and trust that exists within the organisation. Al-Jaber Group is committed to providing employees with opportunities for training and personal development to augment their existing skills and knowledge, while providing safe and healthy working environments.
Commitment to integrity
Al-Jaber Group sustains open lines of communication internally and with customers throughout a project's or partnership's life-cycle. Problems are always identified quickly, assessed and communicated to clients so that the most effective and efficient decisions and actions can be taken. Al-Jaber Group is committed to integrity and focused on gaining the respect and confidence of clients to facilitate mutually beneficial future relations.
Commitment to standards and quality
The group's performance is dependant on the level of effort each employee puts into his/her job. In order to fulfil commitments to clients, and to maintain the group's ability to perform the highest of quality work, Al-Jaber Group must recruit, maintain and motivate staff. Al-Jaber Group encourages employees to consider the importance of quality and to share the group's common goals in conforming to international standards of quality, health and safety and the environment.
Loyalty is a major concern of the group and each member company makes efforts to ensure that employees feel valued and can take responsibility representing the group to their best abilities. The group places great emphasis on creating working environments conducive to teamwork, building Loyalty between employer and employees.
Management commitment
Forward thinking management of each member of the Group is committed to:
Innovative practices and solutions
Ensuring that quality is always delivered
Maintaining an atmosphere of professionalism within the group
Conforming with international standards of Quality, Health, Safety and the Environment
Motivating and providing employees with opportunities for further personal development
Establishing member companies as leaders in their fields
Commitment to Quality, health, safety and the environment
Policies and procedures have been implemented to ensure that the companies' operations conform to international standards. Al-Jaber Group provides employees with the information and training so that they take responsible judgements and actions.
Some members of Al-Jaber Group of Companies have been awarded for their commitment to Quality, Safety, Health and the Environment, and ISO 9000 accreditation for quality.